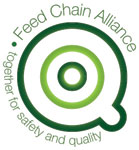 Since 2017, Établissements DOUCY have held the FCA – Feed Chain Alliance – certificate, a unique quality standard in the animal feed sector guaranteeing food safety and quality throughout the animal feed chain, from its source to the end buyer: the farmer.
The FCA standard is accepted and respected internationally and benefits from mutual recognition with the main references in the sector – GMP + international, QS, GTP, CSA GTP, etc.
The FCA standard covers all activities likely to be carried out by a company active in the animal feed sector – production of raw materials, compound feed, prémix, transport, storage, business, etc.
By "animal feed", we mean :
raw materials for animal feed
additives
prémix
compound feed